Long Term Player Development
---
WHAT IS LTPD?
LTPD is a model of athlete development that parallels what doctors and psychologists have long used to better understand human development: as a series of distinct stages, which takes us from infancy through to adulthood. A person's abilities, behaviours and emotions, as well as their understanding of the world around them, varies from stage to stage.
Similarly, experts in sport science have identified seven stages of development — each with its own physical and psychological characteristics —that form the basis for LTPD. When young soccer players are able to train and compete in an environment that's appropriate to their stage of development, they not only perform at their best, they also have more fun.
In other words, LTPD is designed to give players an optimal soccer experience at every stage by putting their needs front and centre.
WHY LTPD?
We don't expect kids to compete in spelling bees without first teaching them their ABCs. When activities and expectations don't match with a child's developmental stage, this can set them up for failure.
The same is true when young children are thrust into a soccer environment that over-emphasizes winning at the expense of developing skills and having fun. The negative consequences can last a lifetime: Some kids develop bad habits and poor skills and can become discouraged. Many don't achieve their performance potential. Others end up leaving the sport altogether because they don't enjoy the game.
LTPD gives all players the best chance of success in soccer by tailoring training, competition and coaching to their needs at the appropriate stage of development.
When children learn the right skills at the right time —supported by a caring soccer community of parents, coaches, officials and volunteers —they become more confident in their abilities and have a lot more fun. This means more of them will grow into healthy, active adults with a lifelong love of the game.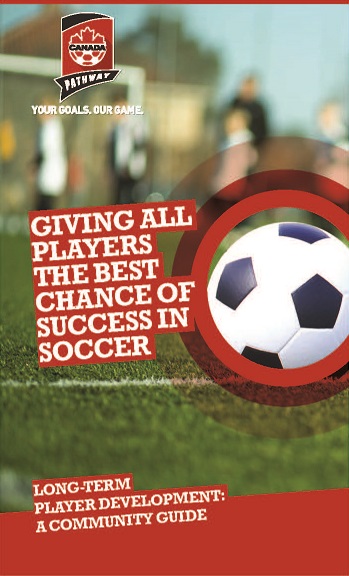 Long-Term Player Development: A Community Guide
LTPD: League Standings in Early Stages of Youth Soccer
---
Long Term Player Development Model: Wellness to World Cup
Aligned to the generic Long Term Athlete Development Model, Canadian Sport for Life, described below, the Canadian Soccer Association (CSA) has developed a soccer-specific Long Term Player Development (LTPD) model: Wellness to World Cup (W2WC). W2WC is a philosophy of player development, training, competition and recovery based on maturational or developmental age rather than chronological age. It is player centred and coach driven and is supported by administration and sport science. The philosophy of W2WC respects the developmental needs of players first and foremost. As providers of LTPD-appropriate programming, the SSA must ensure that our young players have fun while they learn so they will want to continue playing, and we provide challenging opportunities for high performance players so that they can develop their abilities and pursue excellence. All of these needs are addressed by the LTPD philosophy and principles, which strive to:
Promote lifelong enjoyment of physical activity
Provide a structured player development pathway
Describe best practices for elite player development
Create long-term excellence
Resources are available below for in-depth look at the Wellness to World Cup and Long Term Player Development model:
Wellness to World Cup Manual - Volume 1
Wellness to World Cup - BROCHURE and MATRIX
Please Click Here to visit the Canada Soccer website for more information on LTPD.
---
Long Term Athlete Development Model
The Long Term Athlete Development model (LTAD) movement began with the release of Sport Canada's Canadian Sport for Life (CS4L) in 2005. CS4L is designed to improve the quality of sport and physical activity in Canada. CS4L links sport, education, recreation and health and aligns community, provincial and national programming. LTAD is a seven-stage training, competition and recovery pathway guiding an individual's experience in sport and physical activity from infancy through all phases of adulthood.
CS4L represents a paradigm shift in the way Canadians lead and deliver sport and physical activity in Canada. The athlete's needs are the primary consideration and are met through developmentally-appropriate programming based on maturation and aimed at ensuring a positive sporting experience for all athletes regardless of ability and level of participation.
Long Term Athlete Development (LTAD) - Guide for Parents
Sport for Life: Stages of Long Term Development

For more information on the Long Term Athlete Development Model and additional resources, please visit the Canadian Sport for Life website at https://sportforlife.ca/
---